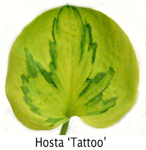 We have over 13,700 hosta names in our database representing around 9,000 to 10,000 different hostas. Many are listed as parentage "unknown" meaning that nobody kept records of the ancestry of that plant. For a large number of open-pollinated seedlings, only the mother i.e. pod parent has been identified. The mother plant of most sports is commonly listed regardless of whether it was found in the garden or generated in the tissue culture process of propagation.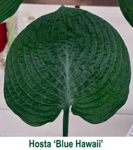 As with most things associated with hostas, there is a bit of confusion involved in determining the background of many cultivars. Hostas listed have been named as either the mother (pod parent or originator of the sport) or father (pollen parent) or has been noted as being a plant in the "background" of the cultivar. We have also included plants that are listed only as a certain "type" such as an H. 'Sieboldiana'-type.
The options listed below include the numbers of offspring or background plants associated with cultivars or species hostas.