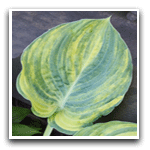 Listed here are all the "Latinized" hosta names that we have found over the years in various books, websites or other sources. Some of them such as the 42 currently recognized hosta species (designated by

) and their naturally occurring forms or varieties are still legitimate names.
In 1991, W. George Schmid published the then definitive book on this topic called The Genus Hosta. In it, he determined that some hostas traditionally called species were, in fact, cultivated plants that never existed in the wild. These plants are listed with the

graphic. In 2010, he included H. 'Sieboldiana' in this group although that designation is still debated by some Hostaphiles.

This list also includes incorrect or outdated names but the correct one will appear on the resulting database retrieval list when you click on the link. For those with a correct name, it will show that plant's offspring.