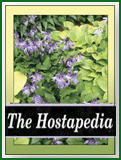 With the first name "Abba", this non-registered cultivar is probably (but not definitely) from Paul Aden of New York. It is a green colored hosta with yellow medial (center) variegation.
According to The Hostapedia by Mark Zilis (2009), "...have never seen in a collection or garden..."
This hosta was included on a list at the Hosta Library.