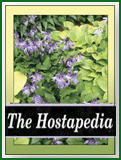 This plant with an H. venusta background was registered by Dr. Charles Purtymun at Walden West Nursery in Oregon in 1988. A miniature size plant, it grows to about 6 inches in height and spread to about 14 inches. Purple flowers bloom in July followed by viable seeds.

According to The Hostapedia by Mark Zilis (2009), "...easy to confuse with H. venusta. Both become dwarf-size mounds of oval-shaped green foliage with purple flowers in July."
The New Encyclopen-pollinated seedling edia of Hostas by Diana Grenfell (2009) states in its Miniature Hostas chapter: "Ideal for sinks or small containers. The flowers sometimes rebloom."