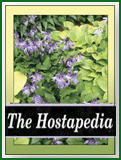 A seedling of H. pycnophylla, this cultivar was registered by Stuart Asch of Michigan in 2004. The small size mound grows to about 10 inches in height and spreads to about 27 inches in width. Its leaves are very broadly ovate with a distinct tip and are moderately corrugated and unruly. It bears pale purple flowers on red dotted scapes from late July into August.
According to The Hostapedia by Mark Zilis (2009), "Though its 2004 AHS registration... indicates the presence of a 1/32" wide creamy white margin, the leaves are not variegated..."
The originator made the following comment on the Fraternal Order of Seedy Fellows website: "This beautiful hosta is named after my granddaughter. This small plant has highly corrugated leaves that are bright yellow/gold and contrast nicely with the red scapes/bracts and deep lavender flowers. Takes much sun."