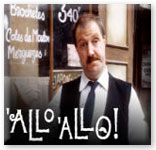 Registered by Madelon Gilligan of New Zealand in 2017, this cultivar is a seedling of H. 'Maya Kingsnake'. It is a medium size hosta about 14 inches high by 22 inches wide with upright, medium green foliage. This slow growing cultivar has smooth red petioles and leaves that are slightly rippled and slightly shiny on top and bottom. Medium lavender flowers with darker lavender stripes bloom from mid-July into August on red scapes followed by viable seeds.
The registration materials state: "...seeds obtained from Alttara Scheer of Connecticut...Clear, attractive green, tidy, upright plant with lower half of petioles showing red and nice twists on end of leaves...Holds clean green color all season."

BBC television series 'Allo 'Allo! which ran for 85 episodes from 30 December 1982 – 14 December 1992.