A sport of H. 'Candy Hearts', this cultivar was registered by Walters Gardens, Inc. of Michigan in 1988. The mound is 12 inches high with a spread of around 27 inches. Its medium green leaves have a pale green to chartreuse colored marginal variegation. Pale lavender flowers bloom in July.
The New Encyclopedia of Hostas by Diana Grenfell (2009) states in its Hosta Hybrids for Connoisseurs chapter: "Slow growing and lacking in vigor. Flowers are sterile although the parent plant is very fertile. Mostly grown as a collector's plant."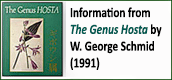 "Plant has deep green center with chartreuse margin which becomes yellow."