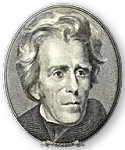 An upright growing cultivar of unidentified parentage, this cultivar was originated by Hajime Sugita of Japan and registered by Peter and Jean Ruh of Ohio in 2001. It becomes a giant size plant about 30 inches high by 53 inches wide with intensive blue-green foliage with prominent white lines on the veins. The leaves are heavily rippled, moderately corrugated, moderately wavy, twisted and dull on top. Near white flowers with a lavender tint bloom from mid-June into July.
The New Encyclopedia of Hostas by Diana Grenfell (2009) states: "Prominent white lines overlay the veins."

Andrew Jackson was the seventh president of the U.S. from 1829-1837.