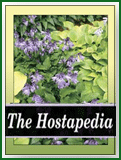 Introduced by Chet Tompkins of Oregon and registered by Peter Ruh of Ohio in 1985, this medium size cultivar has white margined leaves that are elongated and cordate in form. It has pale lavender flowers in July and August.
Mark Zilis (2009) states that "...'Arctic Circle matures into an attractive mound of white-margined, 'Fortunei' type foliage."
Similar cultivars include H. 'Crowned Imperial' and H. 'Francee'.