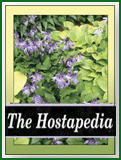 A seedling of H. 'Ritz', this is a non-registered cultivar from Ron Livingston of Michigan. It has blue-green foliage that turns more green as the season progresses. The mound grows to about 18 inches in height with a spread of 42 inches. Its leaves are wavy and unruly with good substance. Light purple flowers bloom in August.
According to The Hostapedia by Mark Zilis (2009), "The pale purple flowers of 'Arten' open on scapes that often do not top the foliage."


According to a Google search, "Arten" means "The conscious use of the imagination in the production of objects intended to be contemplated or appreciated as beautiful, as in the arrangement of forms, sounds, or words."