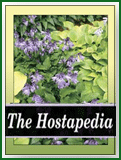 This non-registered cultivar is a small size (6 inches high by 12 inches wide) hosta which is a hybrid of H. 'Blue Cadet' from Kathie Sisson of Connecticut. The foliage emerges in the spring in a cream color with blue-green mottling. As the season progresses, the older leaves darken in the blue-green areas. White flowers bloom in July.
According to The Hostapedia by Mark Zilis (2009), "...observed in the Wade & Gatton Nurseries collection in 1993; may no longer exist."

We suspect that the plant that Mark observed was a different hosta, perhaps a creation of Van Wade. The one pictured above was for sale at the vendor's area of the 2017 National Convention of The American Hosta Society.