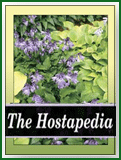 Timothy Savill of England. registered this slow growing sport of H. 'Blue Angel' in 2002 and it was also granted U.S. Patent 18,371 in 2007.
According to The Hostapedia by Mark Zilis (2009), it as a "...large size mound of foliage that is olive-green in the center in spring, becoming much brighter gold during the growing season...near-white flowers from late June into July."

The New Encyclopedia of Hostas by Diana Grenfell (2009) states in its Hosta Hybrids for Connoisseurs chapter: "Extremely sensitive to light and heat...The plant may require moving several times to different sites in the garden to achieve the best results. It may in time exceed its registered dimensions...Has smaller leaves and a yellow central variegation, but is not as robust as its parent."



United States Patent: PP18371

Abstract: A new and distinct Hosta plant named 'Beckoning' characterized by heat-shaped, large-sized, leaves with blue-green margins, yellowish leaf centers, tall vertical flower scapes with many near white flowers held nicely above foliage, suitable for landscape, potted culture, or cut flower arrangements.