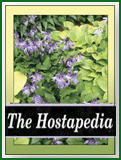 An open-pollinated seedling of H. plantaginea, this cultivar was registered by Natalee Suggs in 1989. It has light to medium green leaves that are moderately wavy. The large size mound grows to about 24 inches in height with a spread of around 60 inches. It bears funnel shape, fragrant lavender flowers in August.
According to The Hostapedia by Mark Zilis (2009), "...has a fast growth rate..."

Benjamin Prince "Bennie" McRae (1939 - 2012) is a former American football player. A native of Newport News, Virginia, McRae played college football as a halfback at the University of Michigan from 1959 to 1961 and professional football, principally as a cornerback, for 10 seasons in the National Football League (NFL) with the Chicago Bears (1962-1970) and New York Giants (1971).