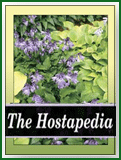 Registered by Dr. Ralph (Herb) Benedict of Michigan in 1983, this is a self-pollinated seedling of a cross of H. nakaiana × H. ventricosa. It is a medium size plant with heavily rippled, shiny leaves and medium purple flowers in July.
According to The Hostapedia by Mark Zilis (2009), "At a glance, 'Betty' appears to be a small-size version of H. ventricosa owing to its shiny, rippled, dark green foliage and purple flowers."
Similar cultivars include H. 'Lakeside Emerald Lights'.