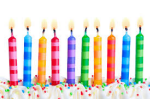 Registered by David Teager of Pennsylvania in 2017, this fast growing, small to medium size (10 inches high by 32 inches wide) cultivar is a seedling of H. 'Lakeside Leprechaun'. It is a greenish yellow hosta with moderately wavy, broadly ovate, slightly rippled leaves that are dull on top. Pale lavender flowers with "faint"

striping bloom from June into July followed by viable seeds.
The registration materials state: "...Fast-growing, medium-sized clump with good color and slightly ruffled leaf edges. Makes a tidy mount with many lavender flowers on candlestick scapes. Blooms on Originator's birthday...consistent greenish-yellow color all season."