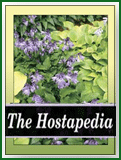 This cultivar comes from Marlene Ahlburg of Germany. It is a non-registered plant of unidentified origin . The leaves have little, if any, corrugation. Near-white flowers bloom from late June into July.
According to The Hostapedia by Mark Zilis (2009), "...sometimes incorrectly listed as 'Blaus Boot'...name translates into "blue boat"."
Similar cultivars include H. 'Blue Angel'.