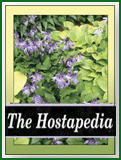 A hybrid of H. 'Blue Cadet', this non-registered cultivar is from Dennis Savory of Savory's Gardens in Minnesota. It is a medium size plant about 11 inches high by 33 inches wide with blue-green foliage. The leaves are broadly ovate, moderately corrugated and wavy.
According to The Hostapedia by Mark Zilis (2009), "The leaves are richer blue color and larger, more rounded, and more heavily corrugated than its pod parent."
A cultivar by this name was listed on the Hosta Library.

The name refers to the town of Edina, Minnesota.