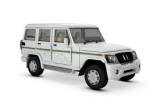 The leaves of this small size cultivar are green with creamy yellow streaked variegation. Its leaves have very wide, flat petioles and come to a point. 'Bolero' is a non-registered hosta of unidentified parentage from Alex Malloy of New York.
A cultivar by this name was listed on the Hosta Library.
Hosta Helper will call this plant 'Bolero' (Malloy)

Name of a Spanish dance or a jacket with short sleaves.