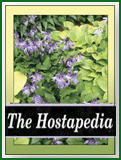 This non-registered hosta of unidentified parentage is from Clyde Crockett of Indiana. It is a medium size, blue-green plant with gold marginal variegation.
According to The Hostapedia by Mark Zilis (2009), "...have never seen in a collection, garden or nursery catalog."
A cultivar by this name was listed on the Hosta Library.