This seedling of H. sieboldii was registered in 1986 by The American Hosta Society on behalf of the originator, Alex Summers of Delaware. It grows into a medium size hosta about 13 inches in height with a width of around 33 inches. The medium green

colored foliage has a yellow marginal variegation. Pure white flowers bloom from late July into August followed by viable seeds.
The New Encyclopedia of Hostas by Diana Grenfell (2009) states in its Hosta Hybrids for Connoisseurs chapter: "Lacks vigor and succeeds best in a warm, humid climate. Once a highly prized marginal hosta, but now only of interest to collectors."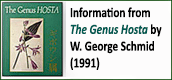 "Plant is similar to H. sieboldii 'Kifukurin'...Considered a H. 'Decorata' hybrid or mutation by some. Broadly, it is a H. sieboldii derivative, as is H. 'Decorata'."

Mikiko Lockwood in an article on The Hosta Library titled, A Little About Japanese Hosta Terms defines the term kifukurin or ki fukurin as yellow edge(d) or yellow margin(ed).