Registered by Hans Hansen of Minnesota in 2002, this sport of H. 'Baby Bunting' forms a miniature size (4 inches high by 8 inches wide) mound. The foliage is broadly ovate with a darker green-blue area between the center light green and the creamy white margins. It has a moderate growth rate and bears purple flowers from late June into July.
The Book of Little Hostas by Kathy and Michael Shadrack (2010) says: "Early morning sun will bring out the sharp color contrasts. Also ideal for the small tray, ceramic bowl, or rock garden."
Similar hostas include H. 'Cookie Crumbs'.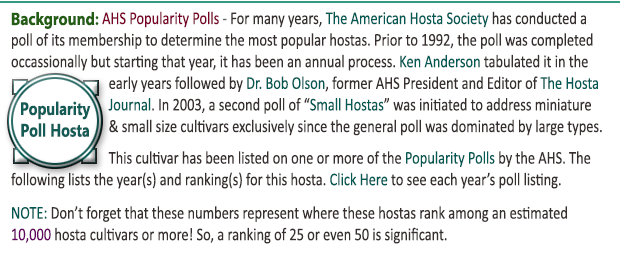 11
4.0

2009 #4
2010 #7
2011 #3
2012 #8
2013 #3
2014 #3
2015 #5
2016 #6
2017 #1
2018 #1
2017 #4