A hybrid of H. 'Sieboldiana' x H. 'Tokudama', this dark green cultivar was registered by Marge Soules of Indiana in 1985. The large size mound grows to about 23 inches in height with a spread of 69 inches. Its leaves are heavily corrugated, convexly cupped and deeply lobed at the base with thick substance. The near white flowers in clusters bloom from late June into July.
According to The Hostapedia by Mark Zilis (2009), "...an attractive, heavily corrugated cultivar notable for its large, dark green leaves that are dome-shaped. It becomes a very wide mound."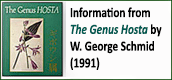 Schmid states that this cultivar was originated by Lucille Simpers of Indiana and registered by Marge Soules.