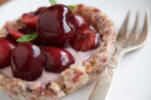 A non-registered seedling selection from Alttara Scheer of Connecticut, this cultivar grows into a small size hosta about 6 inches in height and 15 inches in width. the leaves are smooth and of average substance. Pale purple flowers bloom in August.
The originator made the following comment on the Fraternal Order of Seedy Fellows website: "A small, fast growing plant, Cherry Tart pops out of the ground a crisp, bright chartreuse and heats up with the weather, getting brighter leaves until it glows yellow, with deep, lipstick red petioles that atypically darken as the leaves brighten up. This is one red/yellow combo that doesn't fade in the heat! Give it a few hours of direct sun for best color. Available from Naylor Creek Nursery "
Similar cultivars include H. 'Designer Genes'.