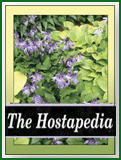 This medium size hosta is a form of the species, H. longipes and it is a non-registered cultivar from Japan. It has narrow, pointed, green foliage which is heavily streaked with green and white specks. The petioles are red dotted near the bottom. It was originated by Kosasa of Japan.
According to The Hostapedia by Mark Zilis (2009), "...credited to "Kosasa"..."
A cultivar by this name was listed on the Hosta Library.
Mikiko Lockwood in an article on The Hosta Library titled, A Little About Japanese Hosta Terms defines the term iwa as rock, Iwa Gibōshi or H. longipes.