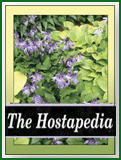 John Clifford of Michigan registered this sport of H. 'September Sun' in 2000. It forms a medium to large size mound with pale lavender flowers that bloom from mid-July into August. This cultivar is part of the "Clifford's Series" of hostas.
According to The Hostapedia by Mark Zilis (2009), "In 2001 a number of nurseries began offering this wide-margined version of 'September Sun'under the trade name H. POLAR MOON, though it is often listed as a cultivar, i.e., H. 'Polar Moon'.
Similar cultivars include H. 'Lunar Magic' and H. 'Lunar Orbit'.