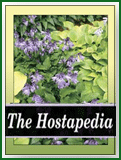 A non-registered cultivar of unidentified parentage, this plant is from Doyle Woods of Iowa. The upright green foliage has a pure white medial (center) variegation. Its leaves are twisted and curled.
According to The Hostapedia by Mark Zilis (2009), "...observed in one collection in 2002..."
A cultivar by this name was listed on the Hosta Library.