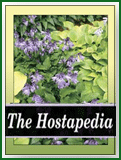 This cultivar of unidentified parentage was registered by Eldren Minks of Fairway Enterprises in Minnesota in 1990. It is a large, semi-upright hosta with blue-green foliage. The leaves are heart shaped, wavy and have thick substance. Near white flowers bloom in July on scapes up to 44 inches in height.
According to The Hostapedia by Mark Zilis (2009), "...formerly called Hosta densa...it was registered as a mutation of H. densa, 'Density' is not related to it. In the garden, it becomes a very impressive, upright mound of blue foliage."
W. George Schmid in his Hosta Species Update on The Hosta Library (2010) says, "This culton is listed as a sport of but that cannot be since H. 'Densa' blooms in September. It must be a hybrid, which could involve H. 'Densa', but that has not been documented."