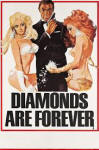 Discovered by Eric M. Sal and registered in 2012 by Walters Gardens, Inc. of Michigan small size (10 inches by 16 inches) tissue culture sport of H. 'Diamond Tiara'. It has medium green foliage with a pure white marginal variegation. The leaves are broadly ovate, moderately flat and dull on top. Deep purple, tubular flowers bloom in July.



United States Patent: PP26011 (2015)

Abstract: The new and distinct Hosta plant named 'Diamonds Are Forever' with small, compact, mound habit, small elliptic to cordate leaves with dark green centers and wide creamy white margins that develop into a white. Numerous purple striped flowers are held attractively above foliage in mid-summer.