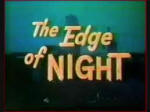 Robert Savory of Savory's Gardens in Minnesota registered this cultivar in 1988. It is a result of a cross of H. 'Green Gold' × H. 'Halcyon' that grows into a large size hosta about 2 feet in height and 5 feet wide. The leaves are deeply lobed at the base and come to a distinct tip. They are slightly corrugated. From late June into July, very pale purple flowers bloom.
According to The Hostapedia by Mark Zilis (2009), "...notable for its dark green foliage."

Don't confuse this one with H. 'Edge of Might'. Actually, it seems curious that both of these cultivar names were approved for registration since they are so close in spelling.