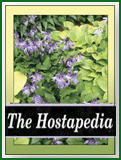 This non-registered cultivar was originated by Dr. Ralph (Herb) Benedict of Michigan. It is a small to medium size hosta with medium green colored leaves.
At one time, it was believed that this plant originated from Robert Savory of Savory's Gardens in Minnesota, but according to The Hostapedia by Mark Zilis (2009), "...did not originate at Savory's Gardens, nor have they ever heard of it..."
A cultivar by this name was listed on the Hosta Library.