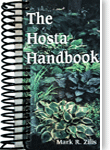 This fast growing hosta has been around a long time and, consequently, has gone through several name changes and variations. According to The Hosta Handbook by Mark Zilis (2000), "...1987 registration by The American Hosta Society as H. fortunei 'Albo-marginata'...name changed to 'Fortunei Albomarginata' by Schmid... has been sold under the trade name SILVER CROWN™ which has also been used as a cultivar name ('Silver Crown')."
This cultivar which is a sport of H. 'Fortunei', makes a large size mound about 23 inches high and 54 inches wide with leaves that narrow at the base, are wavy but not corrugated. Narrow, funnel shaped, pale lavender flowers bloom from mid-July into August followed by a few viable seeds.

From the Field Guide to Hostas by Mark Zilis (2014), "...newer white-edged cultivars are taking its place in the nursery trade. Still, it is useful as a large ground cover..."
The New Encyclopedia of Hostas by Diana Grenfell (2009) states: "Late to emerge in the spring. Tolerates plenty of sun, although the leaf color will fade somewhat. Vigorous, easy to cultivate. Ideal for covering large areas because it is inexpensive. Has been superseded in many gardens by modern introductions. Still considered a classic hosta. A favorite of flower arrangers."