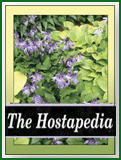 This cultivar of unidentified parentage is from Steve Schulte and was registered in 2003. It forms a medium to large size mound with heavily corrugated foliage that is narrowly ovate, wavy and arching. The pale lavender flowers bloom in July.
According to The Hostapedia by Mark Zilis (2009), "Steve Schulte obtained this plant during a visit to hosta hybridizing legend Eleanor Lachman of Massachusetts... It tends to sport green leaves, so cull on a regular basis to maintain the true cultivar."
Similar hostas include H.'Sand Pebbles'.
Sports include H. 'Foxfire Irish Pebbles'.