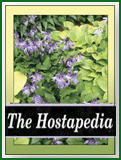 This slow growing cultivar which is a hybrid of H. 'Lancifolia' is from Heinz Klose of Germany and was registered on his behalf by Peter Ruh of Ohio in 2009. It forms a small size (7 inches high by 17 inches wide) mound of dark green foliage which has a golden green medial (center) variegation. The leaves are lightly wavy, lanceolate, slightly rippled and dull on top. Its flowers have purple stripes and bloom on scapes about 16 inches tall.
According to The Hostapedia by Mark Zilis (2009), "...appears to be very similar to 'Kabitan'...name translates to "spring gold"."

Spring Gold and there is an existing hosta named H. 'Spring Gold'.