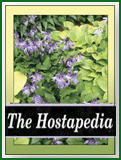 Of unidentified origin, this non-registered cultivar is a sport of H. longissima. It is a small size hosta with green foliage that has a white marginal variegation.

According to The Hostapedia by Mark Zilis (2009), "...possibly the same as H. longissima 'Hanazawa Fukurin Mizu' or H. longifolia 'Fukurin Hosoba Mizu'..."

Mikiko Lockwood in an article on The Hosta Library titled, A Little About Japanese Hosta Terms defines the term hosoba as narrow leaf and the term mizu as water, 'Mizu Gibōshi' or H. longissima and the term fukurin as margined or edged.