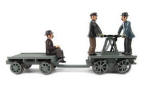 Registered by Jim Husemann of Iowa in 2016, this medium size (16 inches high by 24 inches wide) cultivar is a seedling of H. 'Rosedale Black Hole'. Its broadly ovate foliage is intensely blue-green, moderately wavy, slightly rippled, heavily corrugated and slightly shiny on top. Tubular flowers on scapes 14 to 16 inches tall bloom from June into July.
The registration materials state: "Heavily corrugated dark colored leaves are held flat."

A gandy dancer is a name for a track maintenance worker on a railroad.