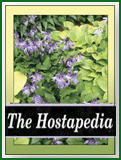 Dr. Ed Elslager of Michigan registered this hybrid of H. 'Sea Prize' × H. 'Halcyon' in 2000. It is a large size plant that grows about 22 inches high and has an upright growth habit. The dark green foliage has gold colored streaks in the center. It bears lavender flowers in July.
According to The Hostapedia by Mark Zilis (2009), "...highly variable, often stabilizing to a white-centered, green-margined form."

There is also an unregistered cultivar named H. 'Golden Eye'.