An open-pollinated seedling of H. 'Tokudama Aureonebulosa', this cultivar was registered by Maxine Armstrong of Nebraska in 1970. It grows into a medium size hosta about 16 inches in height and 40 inches wide with heavily corrugated leaves that have. The near white flowers bloom in late June.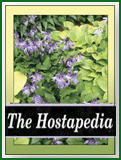 According to The Hostapedia by Mark Zilis (2009), "There are two hostas named 'Goldilocks'. Maxine Armstrong registered her version in 1970, but one of Eric Smith's Tardiana blue leaved seedlings ("TF 2 x 25") was also given the name 'Goldilocks'. The latter, however, was never distributed and probably no longer exists."
Similar cultivars include H. 'Golden Bullion' and H. 'Golden Medallion'.