W. George Schmid of Georgia registered this cultivar in 1989. It is the result of the cross of H. alismifolia x H. 'Ōgon Tachi'. This small plant grows to 6 to 8 inches in height with yellow-gold foliage that changes to all yellow later in the season. It bears lavender flowers in June and July.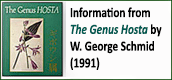 "Plant has light yellow leaves which are unusually shaped being wider near the tip and continuously decurrent to the petiole as in H. alismifolia."
Mikiko Lockwood in an article on The Hosta Library titled, A Little About Japanese Hosta Terms defines the term ogon or oogon as gold or yellow and the term tachi as upright, 'Tachi Gibōshi' or H. rectifolia.