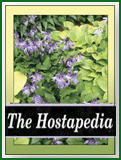 This non-registered cultivar from W. George Schmid of Georgia is a hybrid of H. 'Ōgon Tachi' × H. alismifolia. It has greenish yellow, crinkled foliage.
According to The Hostapedia by Mark Zilis (2009), "...may no longer exist."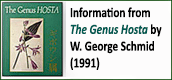 "Plant is medium size and has erect greenish yellow leaves that are crinkled and deformed like those of certain types of Chinese lettuce whose mound it resembles."
Mikiko Lockwood in an article on The Hosta Library titled, A Little About Japanese Hosta Terms defines the term ogon or oogon as gold or yellow and the term tachi as upright, 'Tachi Gibōshi' or H. rectifolia.