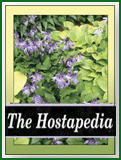 Registered by Dr. Ralph (Herb) Benedict of Michigan and Dr. Jim Wilkins of Michigan in 1995, this cultivar is a seedling of H. 'Maruba Iwa'. It forms a medium size (13 inches high) mound of shiny foliage. Pale purple flowers bloom from mid-September into October.
According to The Hostapedia by Mark Zilis (2009), it is "...attractive foliage but highly rated for its late season flowering..."
Mikiko Lockwood in an article on The Hosta Library titled, A Little About Japanese Hosta Terms defines the term iwa as rock, Iwa Gibōshi or H. longipes and the term maruba as round leaf or round-leafed.