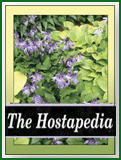 Registered by Dr. Ralph (Herb) Benedict of Michigan and Dr. Jim Wilkins of Michigan in 1995, this cultivar is a seedling of H. 'Maruba Iwa'. It forms a medium size (13 inches high) mound of shiny foliage. Pale purple flowers bloom from mid-September into October.
According to The Hostapedia by Mark Zilis (2009), it is "...attractive foliage but highly rated for its late season flowering..."
Similar cultivars include H. 'Grand Slam'.