Dr. Ralph (Herb) and Dorothy Benedict of Michigan registered this self-pollinated seedling of H. 'Kabitan' in 1990. A miniature size plant that grows into a miniature size hosta only 6 inches high with a spread of 18 inches, this cultivar has narrowly elliptic leaves that are slightly wavy and have thin substance. It bears purple flowers in July followed by viable seeds.

The Book of Little Hostas by Kathy and Michael Shadrack (2010) says: "Although lacking in substance, this edger will take plenty of sun."
The New Encyclopedia of Hostas by Diana Grenfell (2009) states in its Miniature Hostas chapter: "...leaf color dulls as the summer progresses...Moderate to rapid growth rate...Much more robust and a better garden plant than its parent; the leaves are slightly wider and shorter."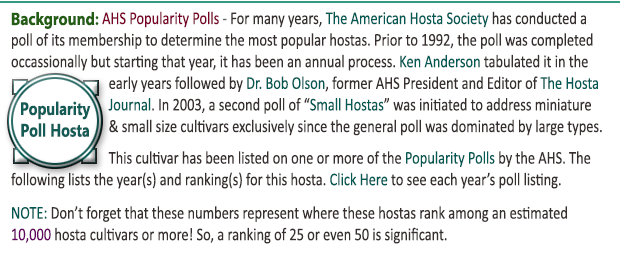 4
7.5

2004 #8
2005 #7
2006 #7
2007 #8