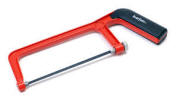 A non-registered cultivar from Ron Livingston of Michigan, this plant is a hybrid of H. 'Atom Smasher' × H. 'Stilleto'. It forms a small size (7 inches high by 20 inches wide) plant with heavily rippled green foliage. The leaves are very narrowly elliptic with serrated margins. Lavender flowers bloom from July into

August followed by viable seeds.
The Book of Little Hostas by Kathy and Michael Shadrack (2010) says: "Good sun tolerance ensures a vigorous growth rate and a bright color, although it may grow bigger than expected."

This cultivar won the 2003 William and Eleanor Lachman Award at the First Look hosta competition as the best seedling as chosen by the AHS Judges.