This non-registered cultivar is a sport of H. 'Hakuyo' from Japan. It is a medium size plant that grows about 16 inches high with a spread of around 34 inches. The medium green foliage has white and yellow streaked variegation. Its leaves are intensely rippled, ovate and have a very thick underside bloom with dark purple spotted petioles. Medium purple flowers bloom from late August into September.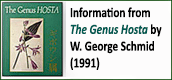 "Hakuyo Nishiki Gibōshi, the "colorful (yellow) variegated white-back hosta" is the yellow-white variegated form of H. 'Hakuyo'..."

Mikiko Lockwood in an article on The Hosta Library titled, A Little About Japanese Hosta Terms defines the term nishiki as brocade (rich-colored woven fabric) i.e. something colorful and beautiful.