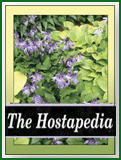 Wm and Eleanor Lachman of Massachusetts registered this cultivar in 1995. It is a hybrid of "P14-3" x H. hypoleuca which grows into a medium size hosta at a height of 18 inches and a spread of 49 inches. The leaves are moderately wavy, slightly corrugated and ovate shaped. As the mound grows, it takes on an upright form. Pale purple flowers bloom in mid-August.
According to The Hostapedia by Mark Zilis (2009), "The margin of 'Happy Valley' changes from yellow to white during the growing season. I've noticed a tendency for some leaves to have streaked and mottled areas."

Happy Valley is a region of Pennsylvania that is home to Penn State University. Wm Lachman was a graduate of that school.