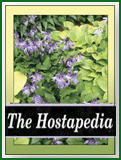 Alex Malloy of New York registered this plant in 2000 as a sport of H. 'Electrum Stater'. It is a medium size plant that bears very pale lavender flowers in July.
According to The Hostapedia by Mark Zilis (2009), "...should be a good source of variegated seedlings."

In Greek mythology, Helios is the titan of the sun and guardian of oaths.