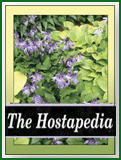 Originated in Japan, this non-registered cultivar is of unidentified parentage. It has blue-green foliage.

According to The Hostapedia by Mark Zilis (2009), "By its name, this should be a dwarf form of Hosta ventricosa, though I've never seen any plant labeled that."

Hime Murasaki is a pop song by the Japanese singer, Mizuki Nana.