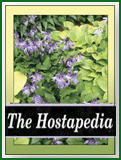 Originated in Japan, this non-registered cultivar is of unidentified parentage. It has blue-green foliage.

According to The Hostapedia by Mark Zilis (2009), "By its name, this should be a dwarf form of Hosta ventricosa, though I've never seen any plant labeled that."

Mikiko Lockwood in an article on The Hosta Library titled, A Little About Japanese Hosta Terms defines the term hime as small, mini, dwarf or princess, the term murasaki as purple. and the term mizu as water, 'Mizu Giboshi' or H. longissima.

Hime Murasaki is a pop song by the Japanese singer, Mizuki Nana.