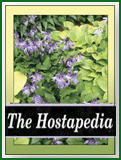 This sport of an unnamed seedling of H. venusta is a non-registered cultivar was originated by Mr. Ichie of Japan. It is a miniature size plant with green foliage that has a white medial (center) variegation. One source says that this is the result of seed treated with X-rays.
According to The Hostapedia by Mark Zilis (2009), "This plant is a good example of the exciting breeding work that is going on in Japan. The green margins of 'Himekomachi' appear very thin, much narrower than in 'Masquerade'."
Mikiko Lockwood in an article on The Hosta Library titled, A Little About Japanese Hosta Terms defines the term hime as small, mini, dwarf or princess and the term komachi as a beauty or a belle.