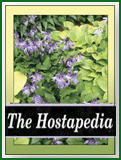 This non-registered cultivar of unidentified parentage was a breeding plant from the collection of Lucille Simpers of Indiana.
According to The Hostapedia by Mark Zilis (2009), "...may no longer exist."

According to a Google search, "Library Magic (Ibaraki-K) is an Ancient Caster Magic and is the precursor to modern Archive Magic."