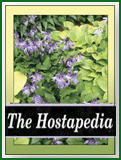 This open-pollinated seedling of H. 'Frances Williams' was registered by Julie Morss of England in 1983. It grows into a large size hosta about 21 inches in height with a spread of 44 inches. The green foliage has a chartreuse medial (center) variegation and is slightly wavy and slightly corrugated. Funnel shaped, pale lavender flowers bloom from late July into August followed by viable seeds.

According to The Hostapedia by Mark Zilis (2009), "...acts more like a Fortunei than a Sieboldiana."
The New Encyclopedia of Hostas by Diana Grenfell (2009) states: "...other authorities have claimed it is a viridescent seedling of an unknown H. 'Fortunei'...Foliage is most colorful in early summer before the variegation fades. Slow to moderate growth rate."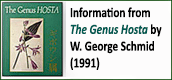 "Plant was introduced by and is named to honor Julie Morss, an early British hosta pioneer...Listed as a sport of H. 'Sieboldiana' hybrid, it has 8-10 pairs of veins, so is probably a H. 'Fortunei' derivative. Considered one of the best English cultivars."