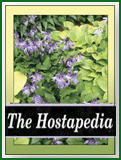 This sport of H. 'Anne' was registered by Dutch hybridizer, Gerardus Heemskerk of Heemskerk Vaste Planten in the Netherlands in 2005. He and Future Plants V.O.F. were granted a U.S. patent in 2002. It forms a medium size plant with slightly cupped leaves of thick substance. In late July, it produces pale lavender flowers.
According to The Hostapedia by Mark Zilis (2009), "This cultivar should not be confused with 'Karen', another registered cultivar. The leaf margins of 'Karin' start the season yellow, but change to creamy white by early summer. It should be noted that its mother plant, 'Anne', is a tetraploid form of 'Fortunei Aureomarginata'."



United States Patent: PP12663 (2002)

Abstract: A distinct cultivar of Hosta plant named 'Karin', characterized by its green and white variegated leaf color; thick leaves; relatively compact plant habit; and lavender-colored flowers that are positioned above the foliage on strong and erect scapes.